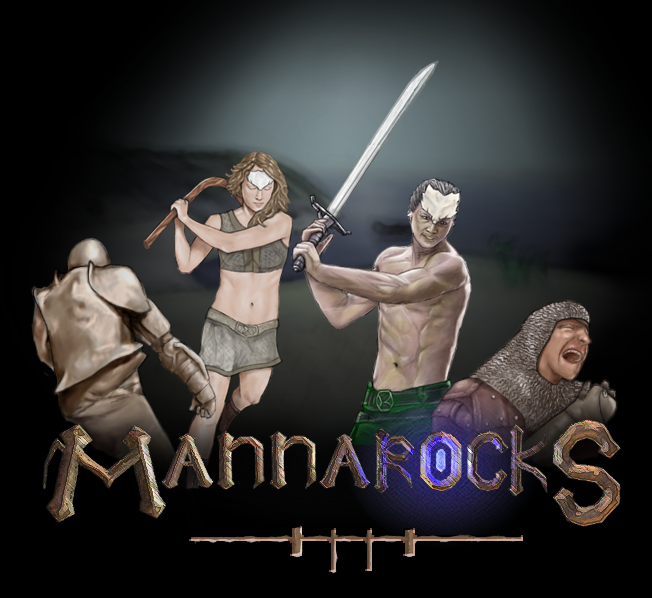 Mannarocks
A downloadable game for Windows
A slightly new look on the classic genre of fantasy beat'em'up games.
Hack and slash through your enemies! Learn new tricks, moves and abilities, earn skillpoints, get better weapons, armor and items, go through the main questline, explore global map for secrets, fight bosses, protect your homeland from ruthless invaders!

Classic couch co-op beat'em'up experience!


Game takes about 2 hours to complete.
There's also an Arena Mode, which allows you to hone your battle skills and explore skill tree.
Tutorials:
---
---
A small bit of info about Mannarocks.

This is my pet project, I did it solo (except for the voiceover, ofc) for about 7-8 months, mostly at night. I'm a long standing fan of Golden Axe series (especially Golden Axe 2), and I thought it'd be fun to create my own project with similar mechanics and dynamics. Since I'm also a big fan of Severance: Blade of Darkness, I've decided to add a couple of fighting elements from there as well - time-based blocking, dodging, high-risk-high-reward superstrikes. Also there's a simple experience-skillpoints-skills system, which allows to customize your character to your play style and make your playthrough a bit more diverse.

Please, leave your comments below, especially if you liked the game - I'd be very happy to know that someone liked my game =) If you have constructive criticism or ideas how to make this game better - please share them there as well!
If game (by some miracle) finds its audience, I'm totally planning to continue developing it - add more playable characters, more levels and enemies, more story content etc. etc.
Download
Click download now to get access to the following files:
mannarocks-windows-beta.zip
78 MB